Welcome to
Katy Web Design
We excel at designing and developing beautiful custom websites that convert users into customers.
About
With our 24 years of experience, Katy Websites strives to deliver the best value in web design and development. Every website we create is optimized for Google and for viewing on mobile devices. We also provide many related services in web design and online marketing.
Web Services
These are some of the major services we offer to local businesses. If you need any online service not listed here, please feel free to contact us to inquire about all of our services.
Web Design
Great design is at the core of everything we do. Our expertise in graphic design is expanded for the demands of web development. Our process includes color theory, layout and organization, legibility and focus on calls to action.
Web Development
We have extensive knowledge of the languages used in programming, such as HTML, CSS, Javascript, PHP and more. The websites we create are highly functional, with all of the modern features required for success online.
Website Maintenance
We offer periodic maintenance services for all websites – whether we created them or not. From simple monthly updates and blog/news posts to feature updates and security maintenance.
Optimization for Google
Also known as "search engine optimization," this is baked into every website we create. This helps ensure that your potential customers can more easily find your business on Google and other search engines.
Optimization for Mobiles
In some business-to-consumer industries, over 90% of potential customers might view your website on a mobile device. We ensure a first-class mobile experience that helps attract and convert.
ADA Compliance
Avoid a lawsuit by having your website meet the government's requirements for accessibility. If your website is not compliant, contact us to see how we can help, without necessarily affecting the experience for all users.
Web Design Portfolio
Below are just a few samples of our work. We have worked on thousands of websites and can easily adapt to meet the requirements of your business.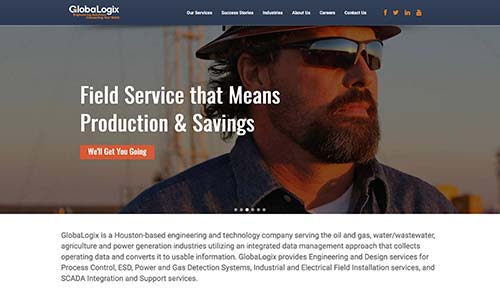 GlobaLogix
Our team won the Houston Business Marketing Association best website award for the GlobaLogix website. Our entry was noted for its clean design, user-friendliness and use of technology.
Goosey Vision Correction
Our team was asked to create a new website that emphasized calls to action and ease of use. We were able to direct more customers to the sign-up and consultation pages than with the previous version of their website.
Camarata Masonry
Camarata's old website did no do justice to the company's beautiful work. We created a new website from the ground-up, using a content management system that allowed the client to make edits without our help.
Advanced Wealth
A financial consultant wanted an award-winning website that matched her savvy and success attainment principles. Our design has stood the test of time with its use of color, dynamic layout and calls to action.
SouthStar Risk
We used the latest web technologies to create the online presence of this consultancy firm. By combining a clean aesthetic with simple and direct messaging, we were better able to connect SouthStar with its clients.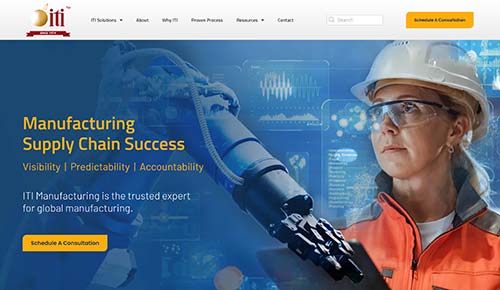 ITI Manufacturing
The global scope of this manufacturing supply chain enterprise was an important directive, which led to our creation of a high-impact design and robust back-end technologies.
Contact Katy Websites
Please feel free to send a message if you would like to discuss how we can be of service to your business.